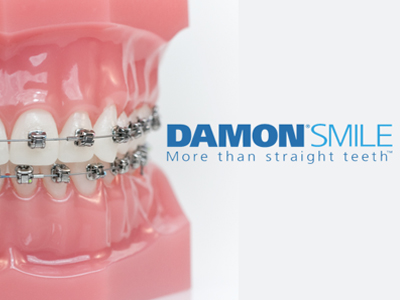 Damon® braces are specially designed self-ligating appliances that offer several advantages over traditional orthodontic brackets. Using a sliding mechanism instead of individual elastic ties to secure each brace to the orthodontic wire, the Damon system of braces makes tooth movement more efficient as well as more comfortable. With Damon braces not only are fewer adjustments and less frequent visits required, treatment is typically completed in a shorter period of time. Moreover, without the presence of elastic ties, less food and bacteria can accumulate around the braces, thereby making it easier to keep the teeth clean.
Combining a self-ligating bracket design with the use of high technology archwires, the Damon system reduces friction to put less pressure on the teeth. As a general rule, with Damon braces less discomfort is experienced and the potential for dental disease, stains, decalcifications and other types of damage to the teeth or supporting structures is reduced.
Depending on lifestyle and needs, Damon braces are available in both metal and clear options.