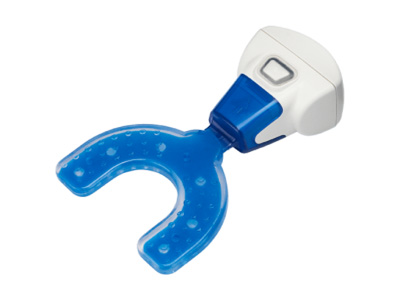 Advanced technology for quicker results
Propel VPro offers orthodontic patients a simple and healthy way to speed up care and help reduce treatment time by more than 50%. Easy and comfortable to use, this patient-friendly device can get taken anywhere patients go and readily incorporated into one's daytime or evening routine.
This innovative and advanced device stimulates bone remodeling to allow the teeth to align quicker and more predictably. For the patient— these actions translate into less treatment time and faster results.
How it works
Typically prescribed for just five minutes a day (our office will instruct you if additional time is indicated), the technology uses gentle high-frequency vibration to accelerate orthodontic treatment by stimulating bone remodeling and promoting faster tissue healing. It can also help reduce any discomfort associated with tooth movement and help increase bone density at the completion of active care and in the retention stage.
The device is designed with patient comfort in mind. By gradually reaching full vibration, it allows patients wearing braces or aligners to become familiar with the sensation and accustomed to its usage. Plus, it's simple to wear. One just places the horseshoe tray between the teeth and gently bites down to hold it in place.
How it works
Representing a convenient and pain-free adjunct to care, the Propel VPro can accelerate orthodontic treatment for patients wearing traditional braces or clear, removable aligners. When used as part of a clear aligner treatment plan, the Propel VPro helps improve aligner tracking and seating for more efficient care and predictable results.
Features & App
In addition to being completely portable, the Propel VPro features LED light notifications and an App that can track your usage and share your results with our office.